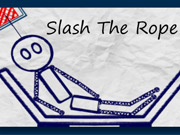 Slash The Rope
---
Description :
Slash the rope is an addictive puzzle game where you must destroy a series of objects to get the ragdoll out of the area and complete the level. You can destroy objects and use the games physics engine to cause the ragdoll to swing and build momentum. You must then plan and act when the time is right to complete your goal. Have fun.
Keywords :
Stickman, Puzzle, Physics, Kids, HTML5, Brain, Boy, Arcade
Control :
Use the mouse to click.
Author :
nosite.com
---
Comments
Please login or register to post a comment